Best Christmas Markets in Europe
WHERE CAN I FIND THE BEST CHRISTMAS MARKETS IN EUROPE? 
Christmas truly is the most wonderful time of the year! Christmas isn't Christmas without a trip to at least one Christmas market. But why not do it differently this year? Europe has some of the best Christmas markets in the world. With festive gifts, mulled wine, and delicious food, you won't know what to try first! We have compiled a list for ten of the best European Christmas markets that you need to visit at least once in your life.
Starting off our Christmas markets list with the city that has the well-deserved title of Best Christmas Market in Europe! It has become one of the top bucket-list events in Europe. The Christmas markets in Tallinn delights everyone with its cosy atmosphere. historical location, beautiful medieval preserved buildings, and long traditions. Not only that, this isn't the first time Tallinn's markets have been elected as the best Christmas markets in the world. So you definitely need to get a ticket to Tallinn as soon as possible.
As always, Christmas markets can be something for the whole family to enjoy. Tallinn's markets have entertainment provided by carousels and Santa Claus. Buy some high-quality handicrafts from all sorts of nick-nacks to practical winter gear. You can't visit the Christmas markets in any European city without filling up on the gingerbread and hearty Christmas roasts.
In our opinion, Vienna is one of the most beautiful European destinations, which makes it a magical and perfect city to celebrate Christmas. Vienna definitely has the best Christmas markets in Austria, which is why it's number 2 on our best Christmas markets in Europe list! The markets kick off around mid-November, where the square transforms into enchanting Christmas markets.
Tempting fragrances of Christmas foods cooking and mulled wines brewing make the atmosphere truly magical! A long-standing tradition at these markets is the 'Vienna Magic of Advent, where the City Hall Square becomes a shining fairytale land, Christmas gifts, sweets, decorations and workshops to name but a few.
Budapest is one of our favourite spots in Europe and they ignite the Christmas celebrations in mid-November also. Budapest brings not only one, but two of the best Christmas markets contenders to the table, Vorosmarty Square and Basilica. Find Vorosmarty Square tucked right into the heart of the city and is Budapest's oldest Christmas market. There's a number of food stalls, handicraft stalls and free concerts as you would expect.
Basilica offers all of this too, but they put a slight edge on it. Christmas laser projections on the Basilica itself and an ice-skating rink that circles around a grand Christmas tree are what make these markets extraordinary. Come across plenty of Hungarian delicacies to tuck into while you're here. If you're conscious of the environment (most of us are), this is one of Europe's most sustainable Christmas markets with eco-friendly plates, cutlery, and cups.
If you're looking for a more modern take on tradition, arty Berlin has this covered. Find the city centre festooned with an incredible 80 Christmas markets. They even have a market specifically for dogs (this deserves a completely separate best Christmas market in Europe list don't you think?). If you're looking for something big, Spandau is the biggest. Or maybe you're looking for somewhere to get that perfect picture, head to Weihnachtzauber, in magnificent Gendarmenmarkt Square.
If you enjoy being active, raise your pulse at Winter World on Potsdamer Platz. dedicated to winter sports, with tobogganing, curling and an ice-skating rink!
5. Prague, Czech Republic
By far, the best Christmas market in the Czech Republic! Prague's markets attract visitors from all over the world each year, who are amazed by the beauty of the city dressed in Christmas colours. Christmas in Prague has an unforgettable atmosphere, the medieval central Prague makes the Christmas markets at the Old Town Square very popular. You will have a strong sense of familiarity while you're here, which makes your experience at these Christmas markets more intense.
The Winter Wonders is your favourite Christmas market in Belgium, with over 2.5 million visitors flock to Brussels every year for this unmissable event. For the occasion, Brussels dons its festive costume and pulls out all the stops on the menu! The warm and joyful atmosphere of 'Winter Wonders' will surround visitors from all over the world. The magical lights from the Great North, cultural and fun activities, original gift ideas and novelties, everything you need to make unforgettable shared moments. We couldn't leave this off the list as it one of the most popular European Christmas markets in the world.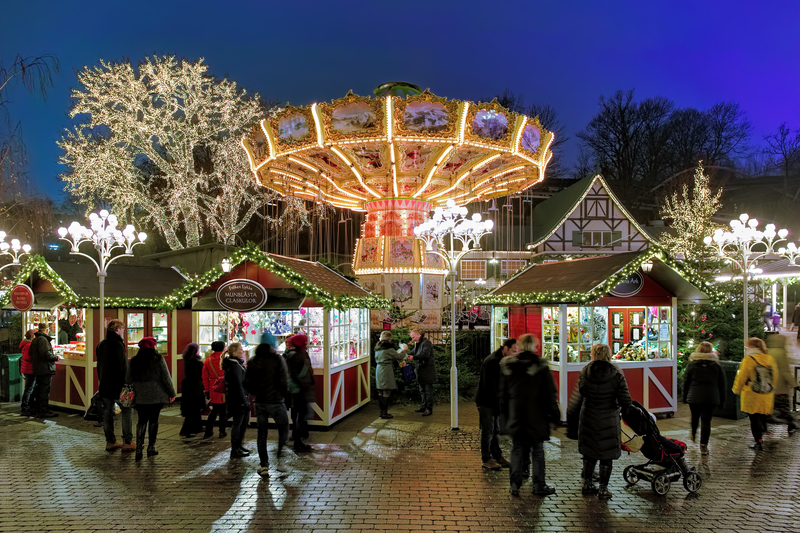 Liseberg is Sweden's most popular amusement park. Why is this on the best Christmas markets in Europe list you ask? Well, the amusement park morphs into one of the world's classiest Christmas open-air markets. You do have to pay to enter, and it's only opened from 4pm to 10pm, but you can snack on smoked reindeer and drink glögg, Scandinavian mulled wine. If you're visiting with your family, make the most of the free children's entertainment. Visit Santa in his wooden workshop, drive the bumper cans and don't forget to stay to watch the glittering, half-hour ice show.
8. Aachen, Germany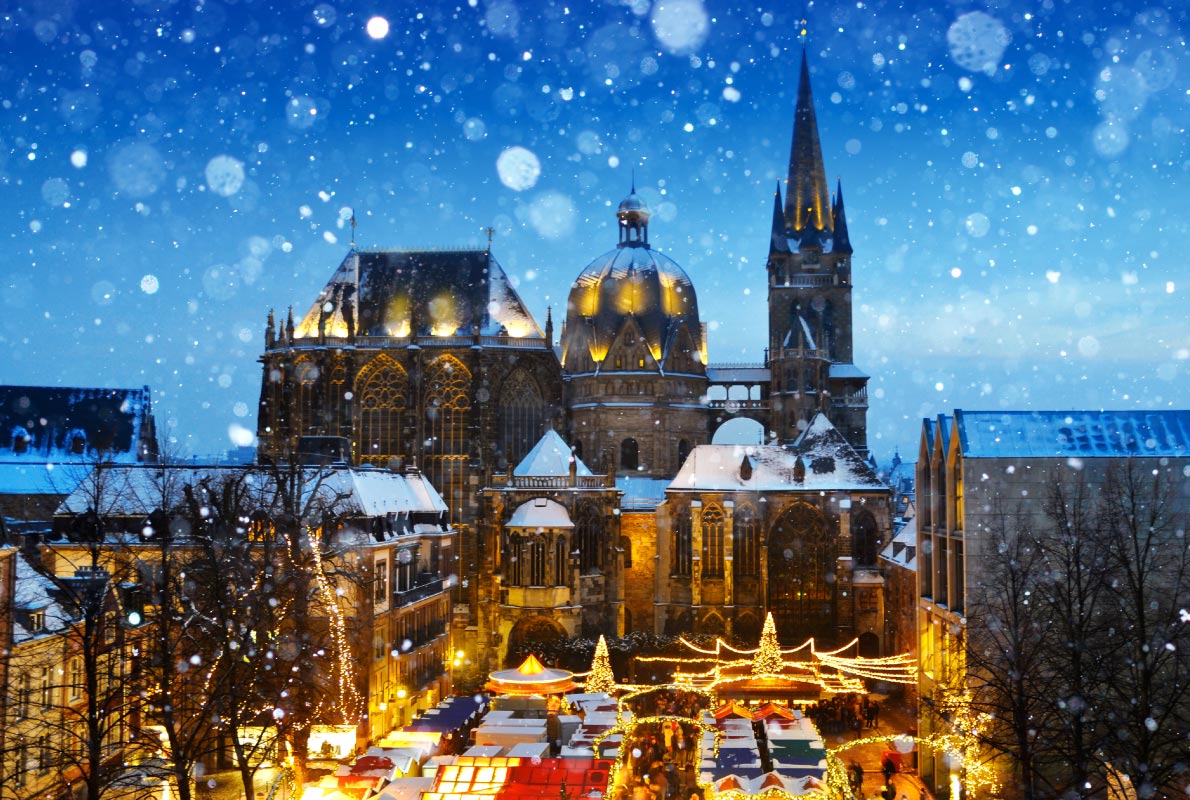 Before the Christmas festivities take over the squares and streets, the Cathedral and Aachen Town Hall are transformed into a paradise of lights, colours, festive sounds and seducing smells. It deserves to be on the best European Christmas markets list, as it's a magical experience. The fair in Christmas City has been erected with great care and sentiment and fascinates everyone and anyone. It's no surprise that the Aachen Christmas Market has become a bucket list for all people of Aachen and Aachen fans as well. The market has become famous far beyond the boundaries of the Aachen region. All down to the pleasant atmosphere that exists here.
9.  Strasbourg, France 
Now set up in the heart of the Grande Île in Strasbourg, a UNESCO world heritage site, the Strasbourg Christmas market is one of the oldest in Europe! It is the birthplace of the Christmas celebrations, and for that reason, it has made our best Christmas markets in Europe list! From the twinkling fairy lights to the delicious aromas, get carried away by the city's warm atmosphere, marvel at the 300 wooden chalets set up in the heart of the city's historic centre. The majestic Great Christmas Tree will be sporting a dress of lights, the streets will be illuminated, the capital of Christmas offers an enchanted and richly decorated experience for everyone to enjoy.
10. Salzburg, Austria
The pretty hometown of The Sound of Music comes into its own at Christmas. with snow-sprinkled renditions of 'Silent Night' and market stalls that look much as they did when they were first set up way back in the 15th century. The main focus here is quality over quantity, so expect hand-knitted socks rather than novelty candles for stocking fillers at this winter wonderland.
In need of a Christmas break in Europe? Why not create the ultimate Christmas market adventure with our custom trip builder!